Although the bald eagle is no longer considered an endangered species, spotting one in person is both exciting and majestic. It's not a bird you come in contact with everyday, especially in Harford County, Maryland.
According to the Harford Sheriff's Instagram account, a team of Harford County sheriffs, Animal Control Officers, and a helpful citizen tracked down an injured bald eagle near 165 and Old Pylesville Road on Tuesday morning. They posted the following picture on their Instagram account stating, "When you sign up to be a police officer, this isn't the kind of chase you expect…It looks like this majestic large bird was struck by a car, but luckily Animal Control Officers were able to take it to Phoenix Wildlife Center, Inc. who is hopeful it'll recover. What an amazing and beautiful creature, we were honored to assist in finding a safe place to recover."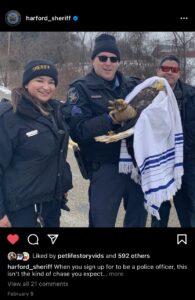 This is an amazing story and great work to all the helping hands involved in the rescue. We wish this bald eagle an easy and quick recovery.