If we learned one thing about fashion during this pandemic, it's that anything goes! After spending
nearly,
a year in our pajama's,
some new trends have surfaces as we begin to head back out into the world. 
We gathered some trends from
College Fashion
that are
taking over the fashion scene. 
What we want to know is are they hot or not?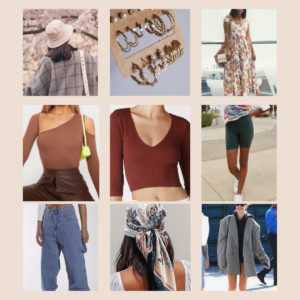 Biker Shorts – these "spandex" were once considered a short decades ago and this trend is slowly making a comeback. Anyone else feel like we just got used to not wearing pants?  
Crop Tops – now these have been around for the past few years but this is something that just isn't going away. If you buy half the shirt, shouldn't it be half the price?  
Oversized Blazers/Hoodies – oversized blazers make it easy to layer, but also the "in" thing is to know your size and double it, so that you swim in it.  
Head Scarves – hot or not? All for these if it means I don't have to show the world my greasy hair! 
Off the Shoulder Dresses – now if you are anything like me who has broad shoulders, these are an absolute no-no for me, but there is something so beautiful about an elegant off the shoulder look. 
Flare Jeans – bell bottoms, flare, whatever you want to call it, are another item slowly making its way back onto the trend charts. They can also be grouped with wide leg pants. 
Bucket Hats – bucket hats or ball caps? For me, it's a bucket hat every time. The extra coverage of your neck really makes a difference. 
Baggy Jeans/Pants – a trend that looks as if you stole your father's jeans on laundry day. Anyone who isn't a Gen Z, a fan of the baggy pant? 
Detailed Cutouts on Tops – whether the shoulders are missing, the mid-section is missing, or a random portion of the back of the shirt is gone, I don't see the need for these. Thoughts? 
Hoops – I think hoops go with everything. Dress them up or dress them down, you can never go wrong with a hoop!  
For more of the trends, click
here
. In the comments, let us know the number of your favorite trend!
Don't forget that Harford County is home to some of the most amazing clothing boutiques so be sure to take advantage of that and support local!
Photo Credits: Pintrest